Nearly five years into managing The Philadelphia Center, Albion College is introducing new ideas and programs to build on the community-engaged-learning success story.
February 1, 2022
By Jake Weber
Fifty-five years ago, The Philadelphia Center opened its doors to open up pathways for college students through a powerful and relatively new concept of out-of-classroom, experiential learning.
The ensuing decades saw the Center develop a national reputation for providing top-tier internships in one of America's most vibrant and historic cities. And that tradition remains at the heart of The Philadelphia Center (TPC) experience today.
But in 2021-22, the Center, administered by Albion College since 2017, is also tapping into its vanguard roots as, together, TPC and Albion embark on some of their most innovative pedagogical work. "Our core program isn't going to change," says Dr. Gretchen Mielke, TPC's executive director. "We're scaling out and scaling up the potential of what TPC can be. It's an exciting time."
A Focus on Social Justice
The Philadelphia Center was created in 1967, as the Great Lakes Colleges Association (the 13-school consortium of which Albion is an original member) responded to student demand for an off-campus program focusing on social justice issues in an urban setting. Since then, some 8,000 participants have completed internships in fields as diverse as accounting, video production, museum management, legal reform, public health, and more.
"You can come to us with any major," says Mielke, who joined the Center in 2020 and notes that TPC has worked with more than 900 internship sponsors over the years. No matter what a student wants to do, she adds, they can do it in Philadelphia—and the Center will work with the student to find that purposeful experience.
Given the limitless program scope, TPC participants are impossible to define as a cohort. That said, they have one important thing in common: all have explored social justice as part of their semester's academic work. Over the years, course topics have included race and education, urban economics, cross-cultural communication, and public-sector leadership, with social justice at the heart of each.
"Our study of social justice was sparked in the weekly seminars but got real in the neighborhoods we lived in and the places we interned," recalls Anne Hunter, '81, executive director of Live Arts, a community-based nonprofit theater in Charlottesville, Virginia, who served as an Albion College trustee for 10 years. "The immersive nature of the program helped me understand the pervasive nature of social injustice and the need for systemic change—in the design of our cities, our transportation networks, our school systems, our laws. It's a lesson that still informs my work in the arts."
Beginning this spring semester the TPC course also will serve as an Albion College ethnic studies course, and will include remote learners on Albion's campus collaborating with the Philadelphia-based students. The professor for the course is Dr. Jeana Morrison, director of academic innovation at The Philadelphia Center who, in a dual appointment, is also a faculty member in Albion's Department of Ethnic Studies.
According to Morrison, it's a win-win to add Albion-based students to her Philadelphia-based classroom. "The TPC experience is about connecting with other people," she says.
"Our students come from around the country, and this is why it makes sense for us to be making these virtual connections between TPC participants and Albion students. Being able to capitalize on human relationships is going to drive us forward—in Philadelphia, in Albion, and on the campuses our students go back to."
Mielke points out that the Center's response during the COVID-19 pandemic jump-started its ability to offer an all-remote "Philadelphia" experience.
"The concurrent course can make the experience richer for everyone, because it brings in more layers of perspective," she says. "We had a student in Vietnam who was part of TPC last spring. We're ready to offer the TPC experience to international students, to students with disabilities or medical issues, or students who just can't get here."
A Firm Philly Footprint
For the students in Philadelphia, their fall, spring, or summer program is not just about an intensive, 300-plus-hour internship. And it's not just about a seminar course. TPC participants learn how to be independent; they acquire the skills to move to a new city and begin to establish their lives as an adult, neighbor, and citizen in a new community.
"I saw this as a great opportunity to go somewhere in the United States to take classes that weren't in Albion," says Jennifer Cortez, '22, who interned in the fall with an education nonprofit. "I also heard very good reviews by other students on the city of Philadelphia." A Chicago native, Cortez is nonetheless impressed: "It's a city with a lot to offer."
Albion, as TPC's manager, has worked hard in the last year to reduce barriers and simplify its admission process for its own students. In years past, as a standard off-campus opportunity, Albion students had to obtain various permissions, pay an off-campus fee, and complete two applications to study in Philly. Not any more.
"We want TPC to be a program for all Albion students," Mielke says. "TPC is Albion away from home, with Albion faculty, staff, and academic credit. There is no better way to step out of your comfort zone."
The Philadelphia Center's national recruiter, Jean Gaffney, '20, is based in Albion, and word of mouth from College faculty, staff, and students about today's TPC is making an impact on campus. Historically, one or two Albion students had participated each year; during the Fall 2021 semester, eight Britons were in Philly, and 16 more will arrive for Spring 2022. Add in the expected 15 Albion-based students who will enroll in Morrison's concurrent ethnic studies course, and it's clear that TPC is attracting attention and meeting student needs.
How those needs are met is another point of pride. "Before students even get to Philadelphia, the TPC staff has been working with them to develop a perfect résumé, discuss career goals, and open connections with potential internship sponsors," says Troy Kase, director of Albion's Career and Internship Center.
Kase is so enthusiastic about the program that he has driven two groups of students to Philadelphia—a 634-mile trek each way. "At TPC, students complete internships at companies that can often only be found in a large city like Philadelphia," he says. "There are many reasons we love sending students there."
Expanding Experiential Learning
COVID, of course, has knocked down recent overall participant numbers, but Mielke is confident that in a few years they'll be working with 100 students in the internship program each semester. The "internship program" distinction will be important, because much of TPC's most innovative thinking at the moment involves "scaling up" the experiential learning mission.
For starters, TPC's staff, facilities, and Center City location make it an ideal place to host short-term educational experiences ranging from individual workshops and seminars to multiday field trips organized by outside groups. Morrison notes that beyond providing a unique revenue stream for TPC and Albion, this expansion will introduce TPC to a wider audience of faculty, academic advisers, future participants, and institutional partners.
The short-term programming "is also a way we can bring back alumni who want to engage with TPC," Morrison adds. "We have a lot of social and human capital in our alumni."
The staff is equally excited about longer-term directions, including multiyear strategies that could involve individual students for up to a decade. Plans are nearly in place for a new TPC program that would start during an Albion student's first semester on campus, even though their Philadelphia-based internship wouldn't take place until much later.
Mielke notes additional possibilities are being considered, including dual-enrollment courses for high school students and career-launching support for internship alumni after they graduate from their home schools.
"We have used the term '360-degree center' in discussions about what we could do," says Mielke. "We can build programs that go from high school to early careers. There is a lot we can do."
The Heart of It All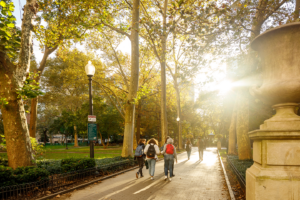 Philadelphia is a big city where TPC students have made a remarkable impact, one semester at a time. Mielke enjoys pointing out a bobblehead figure in the office: it resembles a professional baseball player but is actually a former TPC intern. "One of the Philadelphia-area farm teams appreciated him so much that they made him into a bobblehead," she says.
"We have a student interning with a record label; how cool is that?" Mielke continues. "We have a student who is helping an alternative school create an office from a shipping container, and we have a student who spoke at a rally for Indigeneous Peoples' Day Philly."
Mielke is proud of the work students are doing, and of TPC's role in seeing that work happen. It's what The Philadelphia Center does—but, she asserts, it's not exactly what the Center is.
"TPC is more than just a study-away experience," she reflects. "It's more than an internship. It's about learning about yourself and how you're going to be an adult in a new city, learning about belonging and difference in ways you may not have experienced before."
She grins. "This is a whole-person, a whole-student, experience."