New Integration Advisory Council to Enhance The Philadelphia Center Experience
September 18, 2023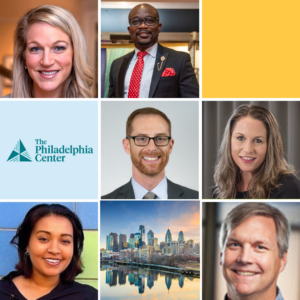 The Chicago Center for Urban Life and Culture announced the creation of an integration advisory council as part of plans to welcome students at The Philadelphia Center in January 2024.
Together, these centers emphasize innovative, community-focused pedagogies that not only expand the traditional college classroom experience but also promote self-awareness, global citizenship, and engagement with issues like race, equity, and inclusion through critical place-based pedagogies.
"I'm grateful for this group's willingness to advise on the expansion of our First Voice pedagogy and development of programs in Philadelphia," said Executive Director Tyler L. Hough, MS. "Their rich experiences, belief in our mission, and commitment to robust student learning will advance The Philadelphia Center's reimagined vision."
The Philadelphia Center Integration Advisory Council includes individuals recognized for their leadership and experience in urban experiential and higher education, and program alumni who will advise on efforts to advance student learning at The Philadelphia Center.
The Philadelphia Center Integration Advisory Council members:
Caitlin Rae Arendse, alumna, The Philadelphia Center (SP'21), The Chicago Center for Urban Life and Culture (FA'21); law student, Ohio State University.
Bio: Caitlyn-Rae Arendse is a graduate of Albion College, class of 2022, where she studied Economics and Management with an emphasis in International Business and Economics. She enjoys writing and travel, skills that have allowed her to have a wide variety of experiences including interning for West Town Law Office in Chicago, writing for Security Television Network (a CNN affiliate) and being an ambassador for NBC4 Channel News for the summer to fall 2022 season. She currently has decided to pursue her masters in the study of law at The Ohio State University!
Greg Costanzo, Customer Success Manager at LinkedIn
Bio: With 20 years of work experience in finance, higher education, entertainment, training, and leadership, Greg has recently pivoted into the field of technology where he helps employers leverage the power of LinkedIn to meet their talent goals. He brings a diverse perspective and experience to his role as a Customer Success Manager, as he's served in various capacities, from operations analyst and academic advisor to instructor and career services director at some of the most prestigious institutions.
At LinkedIn, he listens to the needs of the labor market and develops and executes strategic plans for hiring teams that evolve and improve their outreach and talent goals. He effectively communicates the value proposition of LinkedIn's programs and job seekers and pitches to inspire clients to embrace new methods of connecting to talent. Greg uses data and analytics to gain insight into the impact of LinkedIn's products have customers' objectives and applies findings to drive operational efficiency.
Navigating the world of work has and continues to be a topic of great interest to Greg, for it drove him into a decade-long career in university career services. He believes that hands-on experience, trial and error, and reflection allows one to clarify a vision, piece together personal and professional goals, and build forward-momentum in the pursuit of their ambitions and is happy to share his findings on today's podcast.
Andrew Dunham, PhD, Associate Dean & Registrar, Albion College
Bio: Drew Dunham is starting his seventeenth year as Associate Dean of Academic Affairs and Registrar at Albion College in Albion, Michigan. As Associate Dean, his responsibilities range from institutional research to assessment of student learning to student retention. During his time at Albion College, he has also served as the Director of Campus Programs and Organizations, Associate Dean of Students, and Associate Dean of the First-Year Experience. He received bachelor's and master's degrees in music and also earned his Ph.D. in college student personnel administration from the University of Northern Colorado. Drew teaches courses on community action and engagement, first-year experience seminars, and is the associate conductor of the Albion College Symphony Orchestra.
Megan R. Ellis, M.Ed, alumna, The Philadelphia Center (SP'04); Executive Director of OWU Connections, Ohio Wesleyan University
Bio: Megan co-leads the OWU Connection, Ohio Wesleyan University's signature experience. As a strategic leader, she is responsible for the unification and growth of this transformational program which is integrated into the OWU curriculum.
In her role as Executive Director, Megan works closely with students, faculty and staff, alumni, community members, and corporate partners to create opportunities for personal and professional development for OWU students through research, service, travel, and career development. Megan oversees multiple teams, including Career Connection, Delaware Entrepreneurial Center, Woltemade Center for Economics, Business, and Entrepreneurship, Ross Art Museum, Early Childhood Center, Perkins Observatory, Global Scholars, Arneson Institute, Education Fellows, and New York Arts Program which provide high-impact practices and student opportunities connecting curriculum to out-of-classroom experiences.
Megan earned a Master's of Education in Higher Education from Pennsylvania State University with a Certificate of Institutional Research and a B.A. from Ohio Wesleyan University with an Economics Management major and Psychology minor. Megan is a proud alum of The Philadelphia Center. She completed a semester in Philadelphia in the spring of 2004, interning at the Atlantic 10 Sports Conference as a sports marketing intern.
Kafui Kouakou, EdD, Assistant Vice President for Career Development and Experiential Learning, Quinnipiac University
Dr. Kafui Kouakou currently serves as the Assistant Vice President for Career Development and Experiential Learning at Quinnipiac University. Prior to joining Quinnipiac, Dr. Kouakou was the Dean of the School for Public Purpose and Professional Advancement (SPP) at Albion College where he oversaw several institutes, centers, and programs including the Career Center, the Ford Institute for Public Policy and Leadership, the Curtis Institute for Race and Belonging, the Center for Sustainability and the Environment, and the AmeriCorps program. Dr. Kouakou also worked at the City University of New York (CUNY) where he served as the University Associate Director in the Office of Academic Affairs. In that capacity, he directed various experiential learning initiatives that included the CUNY Cultural Corps and CUNY Service Corps programs among others. Dr. Kouakou is currently an Adjunct Assistant Professor at the CUNY School for Professional Studies. He was a faculty in the Business and Economics, Mathematics, and the Health and Physical Education departments at York College where he also served in various other capacities notably as the Head Coach of the women and men's soccer teams. Dr. Kouakou is a former CUNY Trustee Ex Officio and Chairperson of the University Student Senate (USS). He is also the founder and CEO of Dr. Kafui Kouakou Consulting, a firm that provides leadership and professional development services for professionals at various stages of their careers. Dr. Kouakou graduated from the College of Professional Studies at Northeastern University where he obtained a doctorate in Higher Education Administration with a focus on experiential learning. He started his undergraduate studies at York College – CUNY where he graduated with honors, receiving two bachelor degrees, one in Business Administration and the other in Mathematics and then went on to Brooklyn College where he graduated with his masters in Business-Economics.
Catherine Sanders, PhD, Co-Chair; member Chicago Center Board of Directors
Bio: Catherine Sanders is Chief of Staff in the University of Chicago Crown Family School of Social Work, Policy, and Practice. In this role she leads projects and initiatives including planning and implementing long-range and strategic plans; working with faculty and staff in managing key priorities and operations; facilitating institutional collaborations; and developing systems and efficiencies to support overall School effectiveness. She previously served as Chief of Staff to the Chancellor at the University of Illinois Chicago, facilitating processes to allow the Chancellor and Executive Cabinet to work collaboratively to resolve obstacles and focus on institutional priorities during a period of unprecedented growth and development. Cat previously worked in student affairs and residence life roles at Northwestern University and the University of Texas at Austin. She holds Bachelor of Social Work and Master of Public Administration degrees from the University of Illinois Chicago and received her Ph.D. in higher education administration from the University of Texas at Austin.
Executive Director Tyler L. Hough, MS, and Chicago Center Board Member Dr. Catherine Sanders will co-chair The Philadelphia Center Integration Advisory Council.
For any questions, please contact Tyler L. Hough.